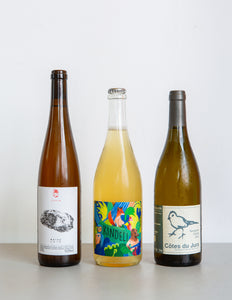 WHITE NATURAL WINE PACK / France, Germany, New Zealand / 3 Bottles
€6400

€64,00
Tax included.
---
---
WHITE NATURAL WINE PACK / France, Germany, New Zealand / 3 Bottles
For this offer we have created for you a selection of 3 bottles of organic or biodynamic wines at a special price, we have chosen 3 of our favorites white wine.
In this pack you will find :

- DIDIER GRAPPE Savagnin Ouillé 2018 / White / Jura / France
Savagnin Pressé, Low to medium oxydation, Medium bodied, Earthy Nutty

- MARTIN WÖRNER Weiss 2018 / White / Rheinessen / Germany
Weiss blend, exotic, light bodied, medium acidity, tropical juice
- ALEX CRAIGHEAD KINDELI /Bianco 2019 White blend/ NELSON, NEW ZEALAND
White blend: Chardonnay, Sauvignon Blanc. Crisp acidity, passion fruit, citrus 5% was fermented carbonically, 15% was destemmed and fermented on skins, the rest was pressed into neutral oak and stainless steel.
Free delivery option only available in Lisbon Portugal.