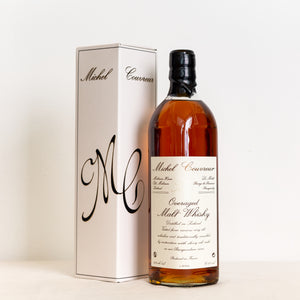 MICHEL COUVREUR WHISKY / Overaged malt 43 % FRANCE
€6900

€69,00
Tax included.
---
---
MICHEL COUVREUR WHISKY / Overaged malt 43 % FRANCE Bourgogne
Blended Malt, Whisky, smokey, very smooth, 12 years, aged in xérès Pedro Ximenez barrels
The Overaged Malt Whiskey by Michel Couvreur was born from a blend of single malt whiskeys, aged 12 to 25 years.
The "young" single malts bring a lively and peaty character, the more mature bring roundness and complexity. The assembly finished, the Overaged aged in Pedro Ximenez's fresh barrel, in a moderately humid cellar, which gives it cohesion and softness. It is then reduced to 43% with pure Scottish water.
 Upright and elegant, discover the unique range of Michel Couvreur artisanal and unfiltered whiskey.
Very popular with amateurs of natural wine, these character whiskeys testify to the passion of a man who integrated the capital importance of the choice of barrels and aging conditions in the development of exceptional malts.
 Distilled in Scotland, the malts then benefit from optimal aging conditions, in the heart of the Burgundy rock, the very one where the great wines of the world take root.