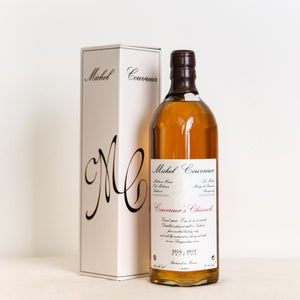 MICHEL COUVREUR WHISKY / Clearach boisson spiritueuse de cereales 43 % Vol. FRANCE
€4800

€48,00
Tax included.
---
---
MICHEL COUVREUR WHISKY /
Clearach boisson spiritueuse de cereales 43 % Vol.
BOURGOGNE FRANCE
CLEARACH is the name generally given to barrel-aged alcohol during its first three years.
Possessing all the powerful and lively characteristics of young alcohol, Michel Couvreur's Clearach Whiskey offers flavours of first wine impregnations.
A whiskey made from malt distilled in Scotland, then matured in barrels of very old Pedro Ximenez for 3 years. Distilled to 65%, it is then reduced unfiltered to 43% alc / vol with Scottish water when bottled.
 Single malt, smokey, young and fresh, 3 to 5 years, aged in PX barrels.
Upright and elegant, discover the unique range of Michel Couvreur artisanal and unfiltered whiskey.
Very popular with amateurs of natural wine, these character whiskeys testify to the passion of a man who integrated the capital importance of the choice of barrels and aging conditions in the development of exceptional malts.
 Distilled in Scotland, the malts then benefit from optimal aging conditions, in the heart of the Burgundy rock, the very one where the great wines of the world take root.