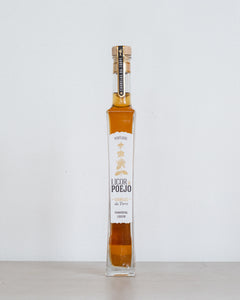 COURELAS DA TORRE Licor De Poejo Penny Royal Liqueur 2019 / Alentejo, Portugal
€2500

€25,00
Tax included.
---
---
COURELAS DA TORRE
Licor De Poejo Penny Royal Liqueur 2019
Alentejo, Portugal

Grape Variety : Licor De Poejo Penny Royal Liqueur
Colour : Spirit
Alcohol Content : 18 %
Farming : Organic certified Ecocert
Size : 200 ml
Pennyroyal is an herb with distinct aroma and flavour, easily identifiable by the freshness that give us. After capturing its essence we have created a very light, aromatic liqueur, perfect to enjoy after meals, for its digestive properties.
Ingredients: brandy, sugar and pennyroyal (from biological agriculture)

All our natural wines are low intervention, unfiltered, without any additives, sugars or sulphites. Created from grapes cultivated using organic or biodynamic farming.