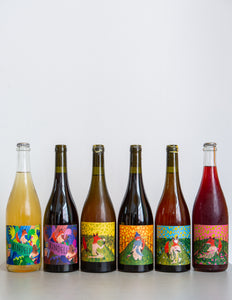 ALEX CRAIGHEAD KINDELI / Nelson, New Zealand / Wine Pack 6 Bottles
€14900

€149,00
Tax included.
---
---
ALEX CRAIGHEAD KINDELI
Wine Pack 6 bottles
Nelson, New Zealand 
An opportunity to sample six different Kindeli 2019 wines at an advantageous price. Including the following cuvées:

Bianco, White (Sauvignon Blanc & Chardonnay)
Light bodied with crisp acidity, notes of citrus and passionfruit.

Tinto, Red (Pinot Noir, Syrah & Petit Verdot) 
Dry, light tannins, light to medium bodied, bright, vibrant acidity, spiced red fruit.

Otoño, Orange (Gewurztraminer, Riesling & Pinot Gris)
Light bodied, balanced acidity, minerality, notes of candied grapefruit, herbs, and grass.


Invierno, Red (Pinot Noir & Pinot Gris)
Medium bodied, bright acidity, minerality, notes of tart berries: dark cherry, blackberry, cassis.


Verano, Rosé (Sauvignon Blanc, Riesling, Chardonnay, Pinot Gris, Gewürztraminer, Pinot Noir & Syrah)
Crisp acidity, floral, spicy, red fruit notes of tomato and cherry.


Primavera, Sparkling Rosé (Pinot Noir, Syrah, Chardonnay, & Riesling)
Dry, light bodied, round acidity, mild carbo fizz, fruity notes of watermelon and maraschino cherries, cotton candy.
All our natural wines are low intervention, unfiltered, without any additives, sugars or sulphites. Created from grapes cultivated using organic or biodynamic farming.